Fascinating Views of Festivals
When travelling across Japan, you can't go without experiencing a local festival. Numerous festivals rooted deeply in local environments and religions have been handed down over generations. Here we will introduce you to 5 festivals from parts of Akita that welcome and attract visitors, where you can feel the essence of the local community spirit.
Golden Ears of Rice Glow against the Summer Night Sky in the "Kanto Festival"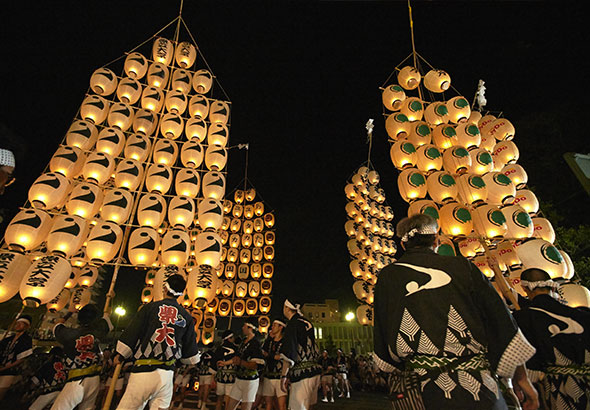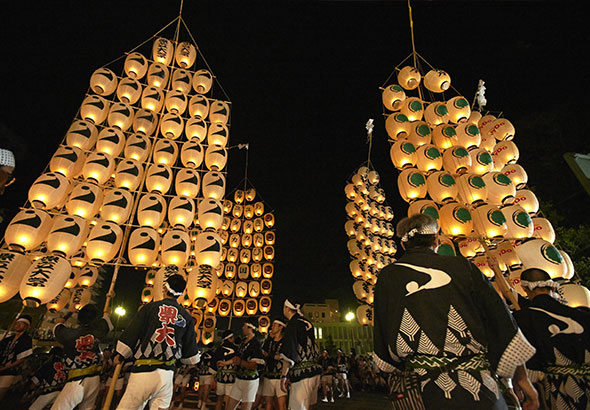 Held every year from August 3rd to 6th near the center of Akita, Akita station. Nearly 10 thousand lit lanterns hoping for good harvest of rice glow and sway like ears of rice against the summer night sky, along the main street stretching 1.6km up and down. Twenty and thirty some lanterns hang from a single bamboo pole, that can be long as 12 meters and weigh up to 50 kgs. Watch out for the performers who deftly play tricks and balance them on their palms, foreheads and hips.
Less than Ordinary 'Daytime Fireworks' of the "Omagari Fireworks"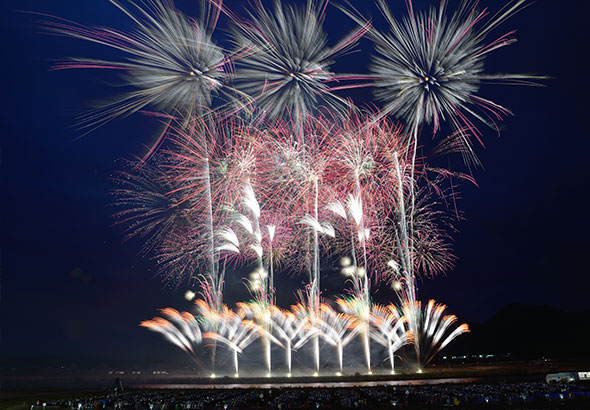 Skilled pyrotechnicians gather from around the nation to compete their mastery on the last Saturday of August every year. With its rich history extending over a century, the competition is counted as one of the "Three Great Fireworks Competition of Japan", boasting approximately 20,000 rounds of explosive spectacle. One feature that gains the Omagari festival a place in the few reknowned competitions are fireworks displayed in the blue daytime sky, using colored smoke instead of bursts of light, but viewers can also enjoy regular fireworks after dark, works of art illuminating the indigo sky.
Wild Live Music Meets Elegant Dance "Nishimonai Bon Odori"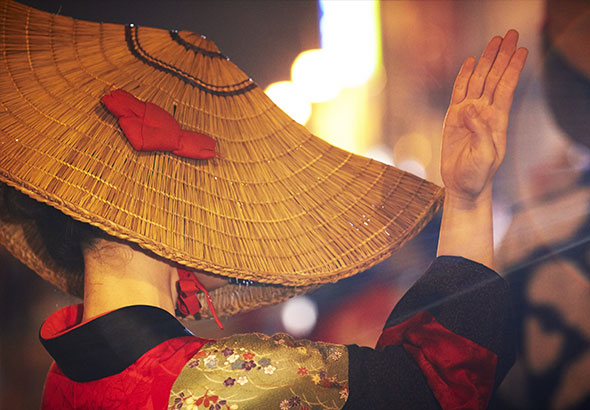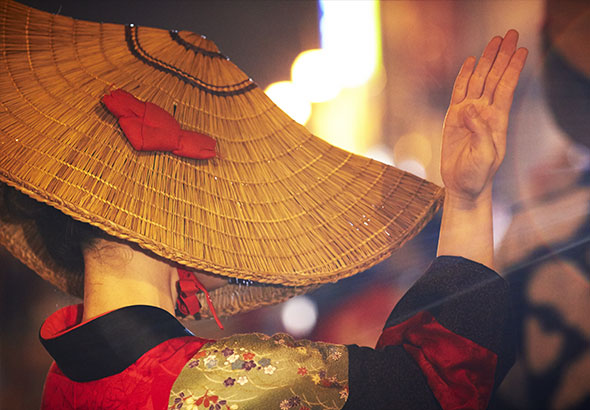 "Bon" is a Japanese summer event where ancestors are welcomed back and spend time with the living. During the 3 days from August 16th when Bon is over and the souls take on for departure, the "Nishimonai Bon Odori" takes place every year in the town of Ugo in the southeastern part of Akita. Although the festival is said to have started around 700 years ago, there are no written records of the origin and the tradition is only oral. Dancers step and turn elegantly with ancestral spirits and wish for abundant harvest, and bamboo flutists and drummers play wild live music around bonfires to create a one of a kind atmosphere.
Fearsome and Awe-inspiring "Namahage Sedo Festival"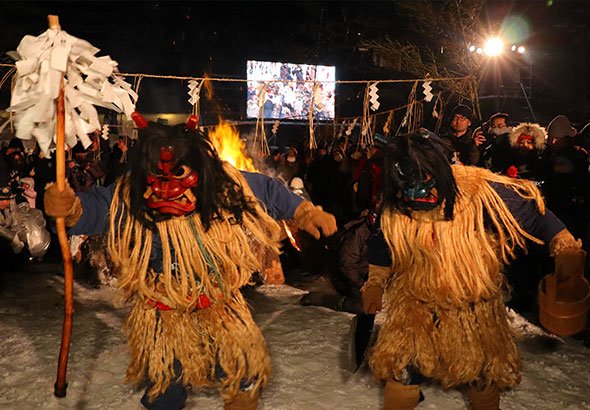 Every year on New Year's Eve, the traditional event "Namahage" takes place in the Oga area of northwest Akita, where local young men in ogre-like masks disguised as "Namahage", incarnation of the mountain diety, make the rounds of homes within the area. TIt was added to the list of UNESCO Intangible Cultural Heritage of Humanity in 2018 along with similar folklore events of other areas. The "Namahage Sedo Festival" held annually in February is open to visitors that are welcome to be a part of this cultural event.
3,000 candlelit small igloos in the "Yokote Kamakura Festival"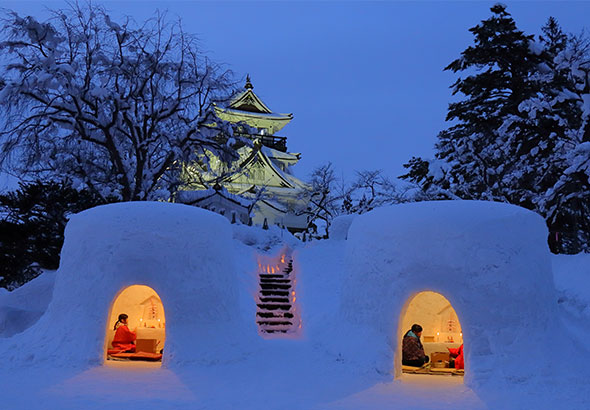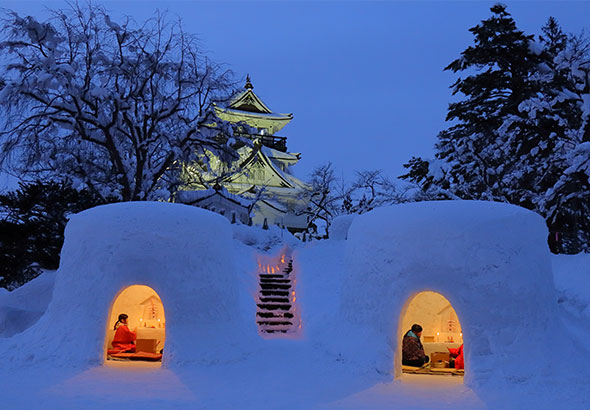 Yokote city, a southeastern area of Akita known for its heavy snow, is home to the mounted igloos called "Kamakura", in which as a part of the traditional New Year events, water deities are celebrated upon the altar and prayed to for good harvest. Today, children greet travelers and visitors and entertain them with mochi and other treats inside these 100 Kamakuras in the city on February 15 and 16 every year. One of the venues house as much as 3,000 mini Kamakuras lit with candles, making for an enchanting view in the snowscape.
---
Recommended Spots
---
How do you stay around?
---
Must Know Akita