Travel To /
Around Akita


Travel To Akita
Akita Prefecture is situated in northern Honshu, Japan. It can be reached from the nation's capital, Tokyo in just over 3 hours by Shinkansen superexpress. The Shinkansen stops at Akita station, It is in Akita City. Domestic flights to Akita Airport and Odate-Noshiro Airport, are available from the major cities including Tokyo, Sapporo, Osaka and Nagoya.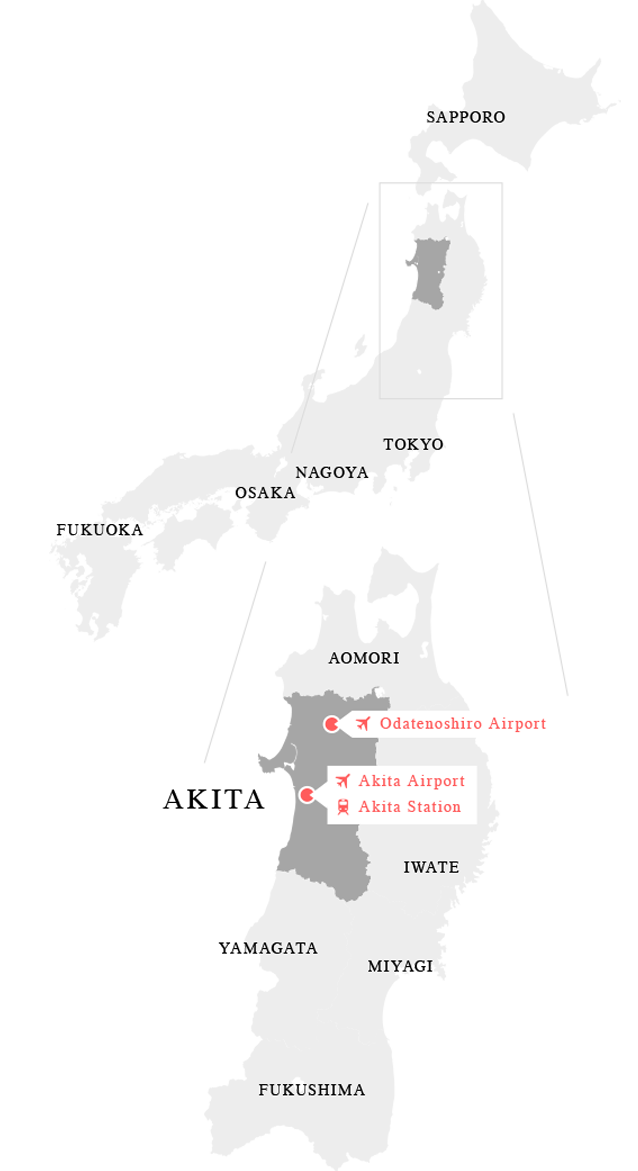 Access From Major Cities In Japan
Check the Tickets
Getting Around Akita
Akita is located in the northwestern part of the Tohoku area facing the Sea of Japan that is full of nature such as the Ouu Mountains and the World Heritage Site, Shirakami Sanchi. In the central area of Akita is Akita City where the airport is situated, and many other public transport such as railways and buses are also available. It is also a city with numerous cultural facilities such as museums and concert halls in harmony with nature surrounded by the Sea of Japan, Mount Taihei and the Omono River. The eastern area is known for its cobalt blue Tazawa Lake that sits deepest in Japan, and onsens including the Nyuto Onsen. The southern area offers many spots that display the power of nature, such as the breathtaking sunset along the coastline in the southwest, the Rokugo Yusuigun famous for its spring water and the great gushing hot waters of Oyasukyo in the southeast. The respective areas are connected by railway, with the two main lines being Ouu Main Line running up and down and the Uetsu Main Line connecting the southern and central area along the coast, and other lines such as the Akita Nairiku Jukan Tetsudo Line connecting the East from Takanosu to Kakunodate, the Gono Line along the northern coast line spanning from Akita City to Hirosaki City in the neiboring Prefecture, the Tazawako Line connecting Omagari and Morioka of Iwate Prefecture, and lastly the Yurikogen Tetsudo from Honjo to Yashima. Flights are available from Akita Airport in central Akita, and Odate-Noshiro Airport in the north.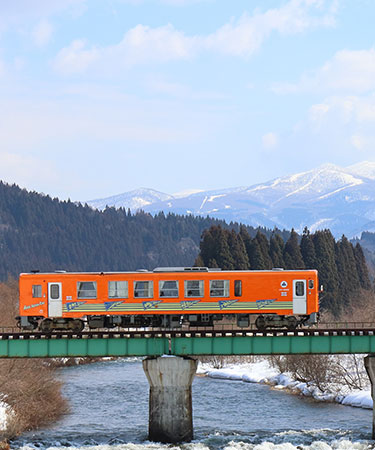 Access to each area from the airport or Akita station
Means of transport in Akita
Means of transport around the prefecture are train, bus, rental car and taxi. Travel between Akita by public transport such as train and bus is limited to certain routes, so it is recommended that you check access to your destination ahead of time as car rental may be required.
There are JR lines throughout Akita, as well as the Akita Nairiku Jukan Tetsudo Line connecting Takanosu and Kakunodate, and the Yurikogen Tetsudo from Ugohonjo to Yashima.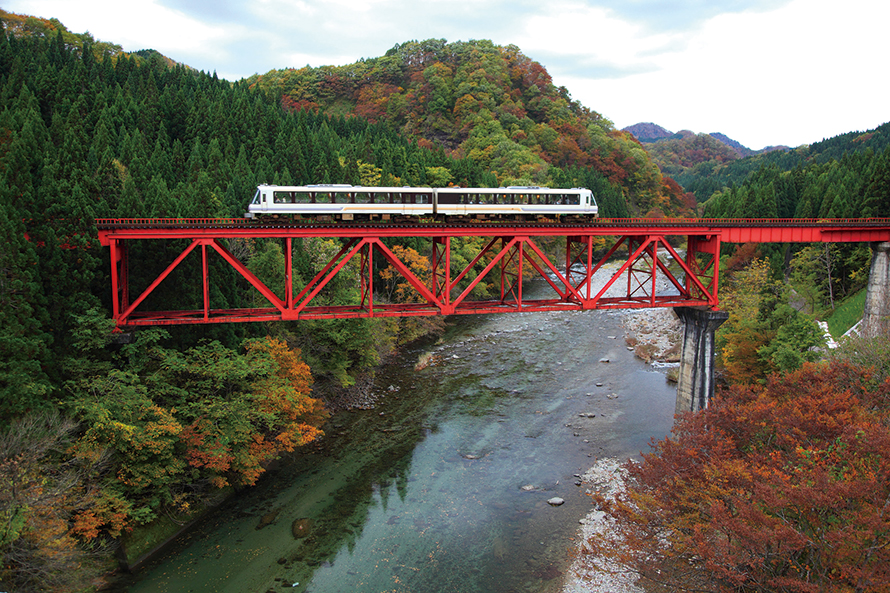 Three bus operators service cities in Akita: Akita Chuokotsu, Ugokotsu and Shuhoku Bus. Their websites are only in Japanese, but their routes, duration and fares between cities and towns appear on Google Maps when you search for directions. Although some other city bus networks are searchable on Google Maps, some are not, so please check the access details described on each tourist spot page on this website.
Major rental car companies in Japan, such as Toyota Rent a Car, Times Car Rental, and Nippon Rent a Car provide online rental car reservation systems in multiple languages. Be sure to check their websites before travelling, as they have locations near major train stations and airports. For foreign drivers, the application Drive@TOHOKU is highly recommended. Drive@TOHOKU provides information such as appropriate lanes, road signs, gas stations, parking lots that can be a solution to issues troubling new drivers in Japan.The app also provides nearby tourist spots and information on the way to get there. For details, please see the download page of the app. Some rental car companies offer renting out tablets installed with the app.
Taxis can be convenient in areas with no bus service. You can hire a taxi from cabstands that are located outside stations at the roundabout. If there are no cabstands near, you can use apps that can call you a taxi to your current location. Please access the Japan National Tourism Organization (JNTO) website and see the app and tips on how to hail a taxi. Most Japanese cab drivers do not understand English, so be sure to get a map or address of the destination ready before getting on to ensure a smooth trip.