---
Akita Prefecture, with its western side facing the Sea of Japan and located about 450 kilometers north of Tokyo, is the sixth largest prefecture in Japan. It has forests and abundant natural resources.
In addition to the abundance of agricultural products that makes the locals proud, many people look happy when they think of Akitas. As the name suggests, the Akita comes from Akita Prefecture. Its ancestor was the mountain-hunting native dog of Akita, called Akita matagi, which dates back to the 16th century, and was originally rewarded as a "fighting dog" to enhance the samurai fighting spirit. Mostly distributed in the Odate area north of Akita Prefecture, it is also called "Odate-inu".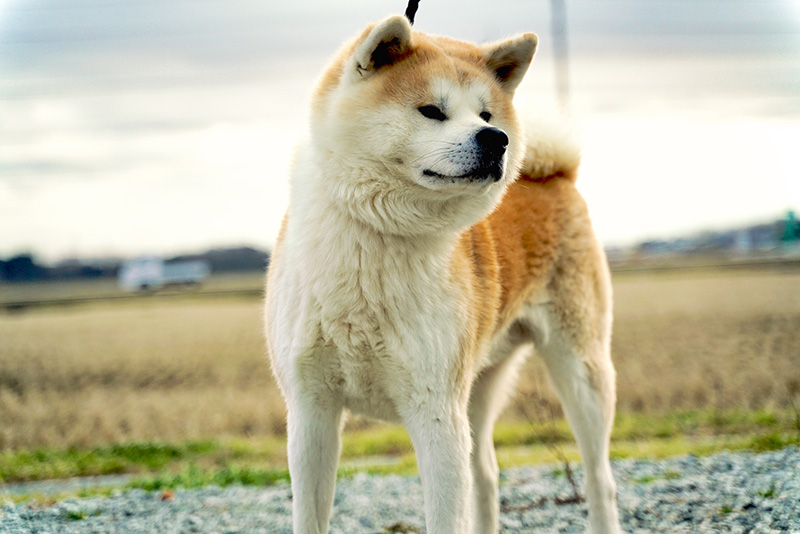 Both cute and loyal, Akita becomes the national dog in the eyes of the Japanese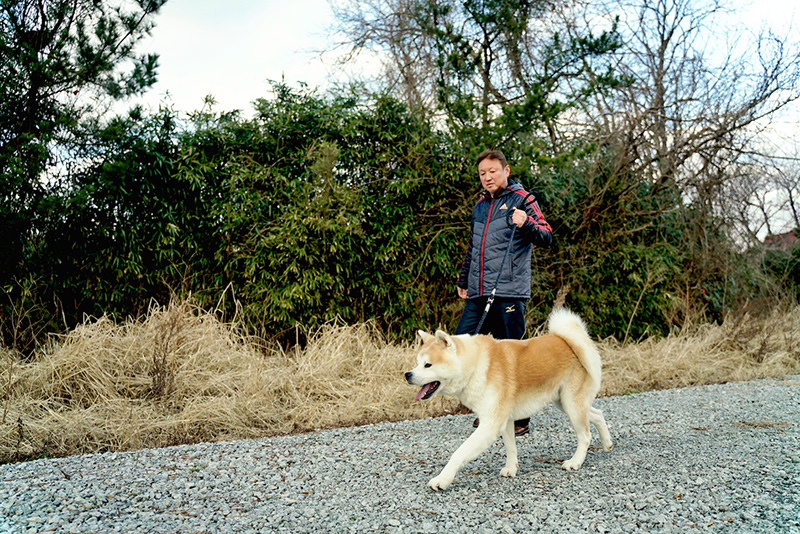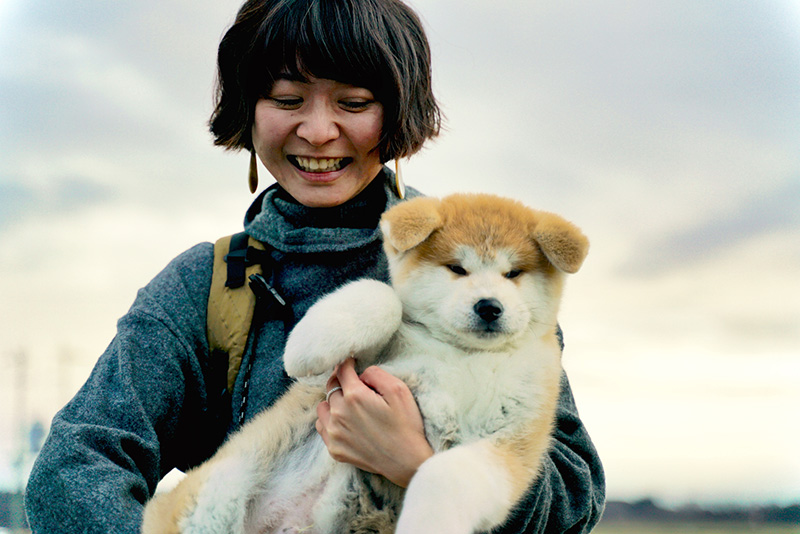 The popularity of Akita can be attributed to the well-known story of "Faithful Dog Hachiko". It is rumored that in the 1920s, Professor Saburo Ueno of Tokyo Imperial University raised an Akita named "Hachiko", which still went to Shibuya Station every day to wait for its master to get off work even after he had suddenly died. Such a moving plot spread quickly in the country. The world-famous "Hachiko" statue was erected at Shibuya Station. The tale was even adapted into the Hollywood movie "Hachi: A Dog's Story" and screened all over the world, not only touching countless people, but also making the loyal image of Akita deeply dwell in the hearts of people.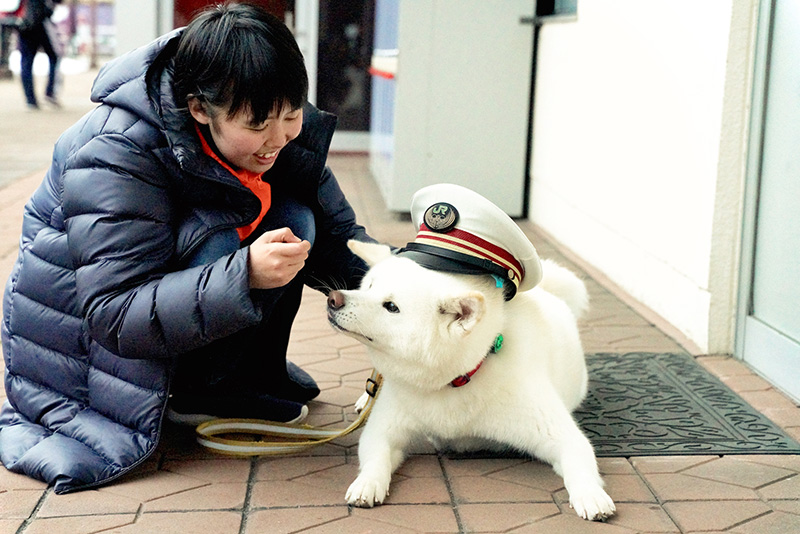 In recent years, Akitas have also been used as a gift to promote national relations. In 2012, the governor of Akita Prefecture presented a female Akita named "Yume" to the then Russian President Vladimir Putin, thanking Russia for its assistance in the Great East Japan Earthquake; in 2018, the Akita Preservation Society gave an Akita puppy named "Masaru" to Alina Ilnazovna Zagitova, a Russian figure skating gold medalist in PyeongChang 2018 Olympic Winter Games because she was attracted by the cute appearance of Akitas in magazines during her training in Japan. Serving as a symbol of friendship and diplomacy, Akita has not only made the Japanese feel good about it, but acquainted more and more people around the world with this loyal and intelligent Japanese dog breed.
Local Vitalization Cooperator embodies pure emotions between humans and dogs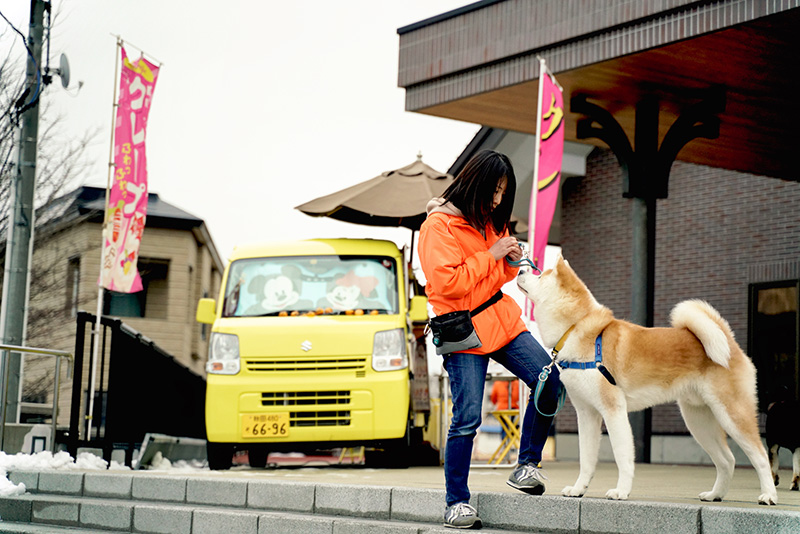 If you visit Akita prefecture in person, you can see posters related to Akitas at airports, stations, hotels and other places. Serving like a tourist ambassador, each Akita greets travelers from afar. Akita Visitor Center, located in Odate City, the birthplace of Akita dogs, opened in May 2019. The Visitor Center is a great place for Akita lovers to get to know Akitas. Not only are there a small museum that introduces the history and characteristics of Akitas and a souvenir sales area, but also an Akita display room where you can watch Akitas up close.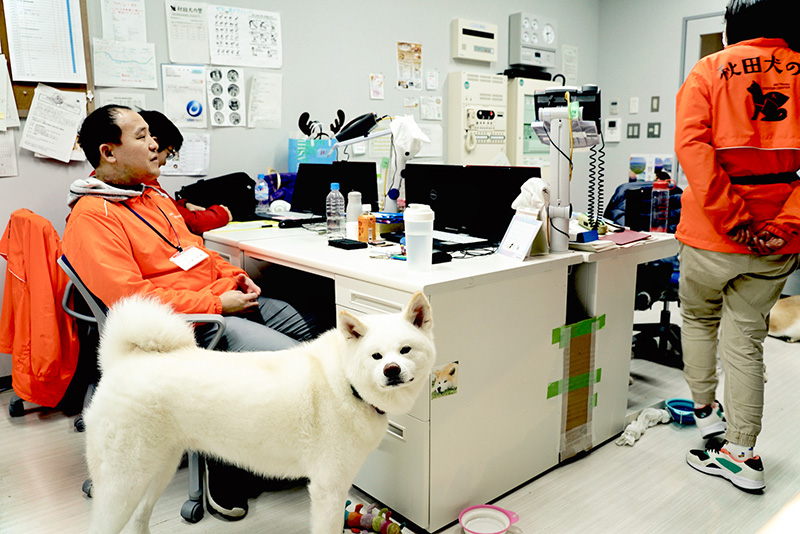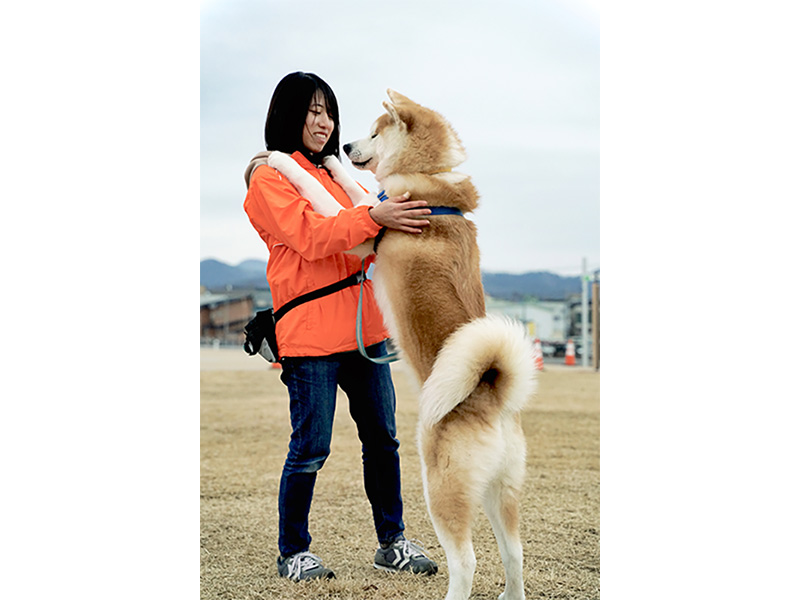 Many local governments in Japan have since 2009 carried out the "Local Vitalization Cooperator" policy and various tasks such as tourism promotion and product development in accordance with the different needs of their own places. At Odate, one of the main tasks of our Local Vitalization Cooperator members is to take care of Akitas. At present, we have four members, each living with own Akita. Occasionally, they take their dogs to work in this Akita Visitor Center." Toru Ishida of the Odate City Commerce and Tourism Division explained, "In addition to taking care of Akitas, they are also responsible for the management of social media and usually think about how to promote local tourism through Akitas."
"I have never raised an Akita before." Sakura Harada, who was born in Noshiro, next to Odate, and came to Odate to serve as a member of the Local Vitalization Cooperator in 2019, said that she was excited and nervous at the moments when assigned to take care of an Akita named "Omochi".
"As Omochi grew up, the more stable she has become. So, I can bring it to public places to contact with people. It has even appeared on the cover of a magazine featuring Akita Prefecture. I feel like a mother watching her kid turning out to be a beautiful girl!"
At various festivals and occasions, members will bring their dogs to the scene. Among them, Omochi and another Akita named "Shodai" have been appointed as the station manager of Odate Station. They are so cute and fluffy that they always give visitors a great first impression of Odate city.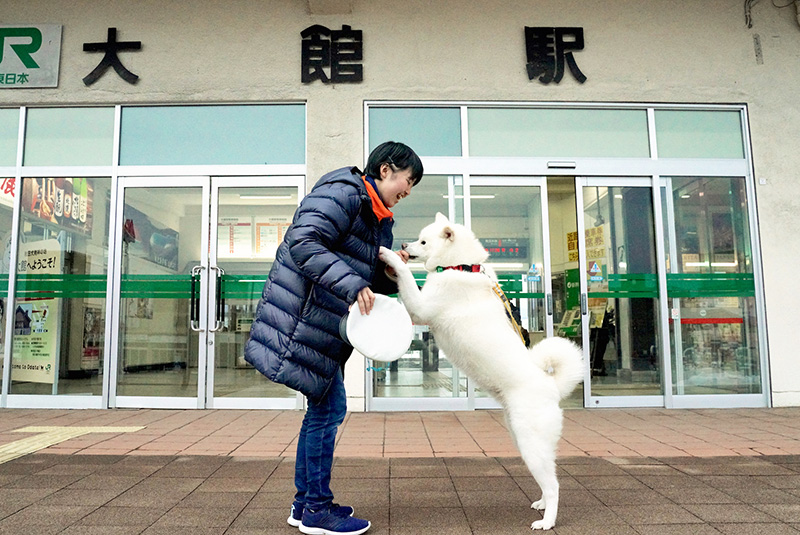 As the term of office for members is up to three years and the Akitas will also retire from their posts together with their caregivers, Sakura Harada said emotionally, "For me, my life can never be separated from this dog. If we were to separate, I would definitely cry. In fact, maybe she doesn't need me that much. It is I who need her more."
Looking at the interactions between members and their respective dogs, you can immediately tell that for these members, Akitas are not only pets and tourism ambassadors, but also their lifelong partners.
Senior breeder Junichi Motose protects Akitas with life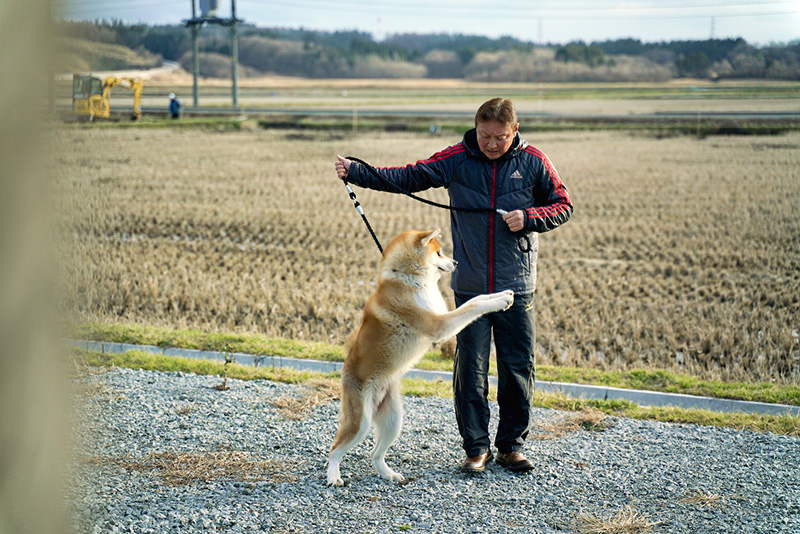 Hidden in the rural fields in Noshiro is the "Noshiro Kojuso," one of a few Akita breeding kennels in Japan. It is here that Akitas of all ages, sizes and coats are raised, and Junichi Motose, the senior breeder in charge of its operations, is responsible for taking care of all the dogs here.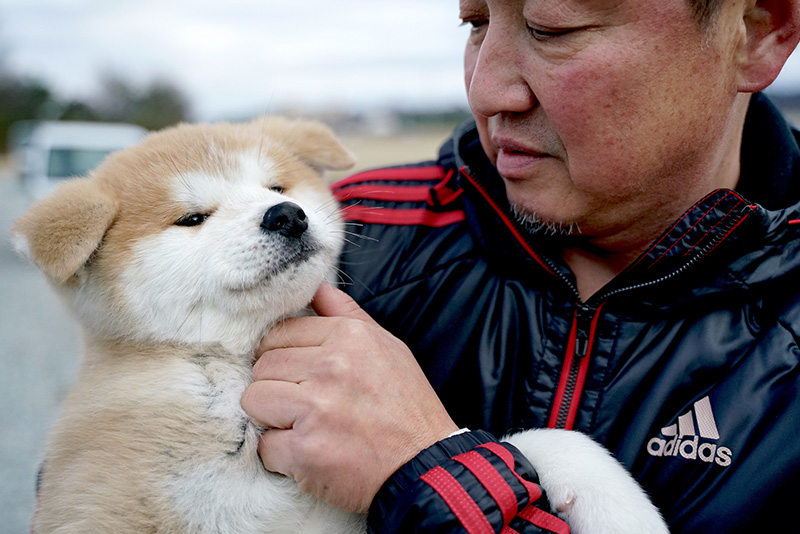 "I've always loved dogs since I was a kid. The first dog I raised as my kid was a white Akita." Born in Hokkaido, the northernmost prefecture of Japan, and relocated to Akita Prefecture with his family during his elementary school days, Motose said, "Akitas are the only large dogs among all the Japanese dog breeds. In the past, their owners were mostly landowners, who usually raised them to protect their real estate properties. However, breeders in Japan are decreasing because of their large size and care difficulties."
"In addition to its body shape, the most obvious feature of an Akita is its tail and ears." Pointing at the dog's sketch, Motose said that the tail is very thick and may roll a circle or two on its back, while its ears are like a thick small triangle that leans forward slightly.
"A lot of people raise Akitas, because they hope to get good results in the exhibition competition." As a senior breeder, he said, "Although we do not win any award money, we have an invisible sense of honor." The Akita Preservation Society, which aims to conserve and breed Akitas, holds two exhibitions each year, and selects dogs of different ages based on items such as body height, hair, color, bones, and muscles.
"Like this "Kokuhoumaru" was once the No. 1 Akita in the country." Motose, who usually has a serious expression, cannot hide his proud smile when talking about his pet dogs.
However, it takes countless hard work to develop a strong Akita from an early age. Motose gets up at five o'clock every morning and begins feeding the nine adult dogs in the kennel and then takes them to a walk in the nearby fields. "It's almost eight o'clock after taking care of all the dogs in a round." Only after cleaning the environment can he enjoy his breakfast.
In the evening, he begins the second round of walking and feeding. "I usually take a walk with each dog for about two kilometers every time as our routine. Of course, I must adjust it according to the habits of each dog." Motose added, "They are very powerful, and each dog has its own personalities. So, I can walk with one by one." In total, he spends at least five to six hours a day on the dogs.
"Walking and feeding the dogs and keeping the environment tidy are things that sound so routine but very important," said Motose. "Almost every Japanese raised Japanese dogs in the past, but now only about the third are raising dogs. This is literally said the gradual loss of culture." He said earnestly, "The breeders will disappear unknowingly one day, if no one takes it serious to maintain them."
"I have always thought that the fastest way to get to know Akitas is of course to interact first!" Motose said the "walking with Akitas" experience program that began in November 2019 is his intention to increase people's awareness and interest in Akitas.
In the vast Akita prefecture, the Local Vitalization Cooperator and the breeders love the Akitas in their own way, while the Akita also seems to maintain its characteristic loyalty and has guarded this northern country for generations, injecting courage and energy into the locality.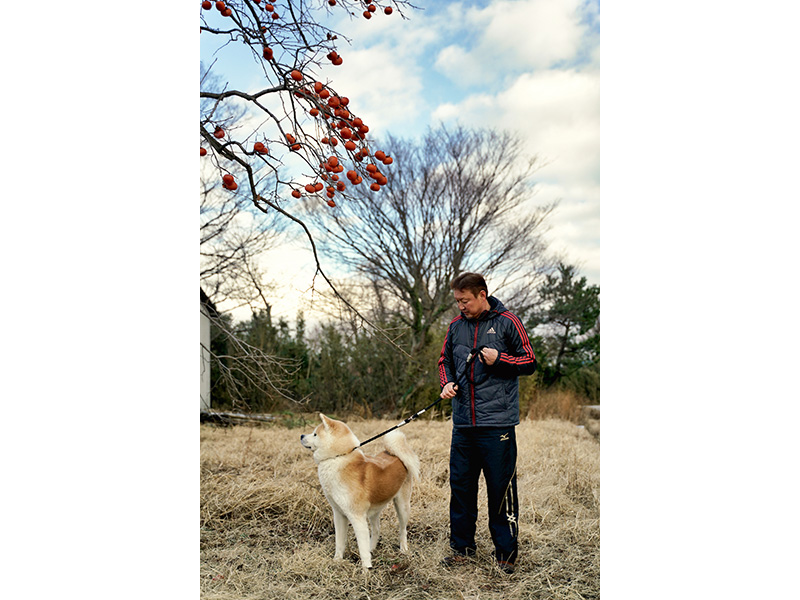 Profile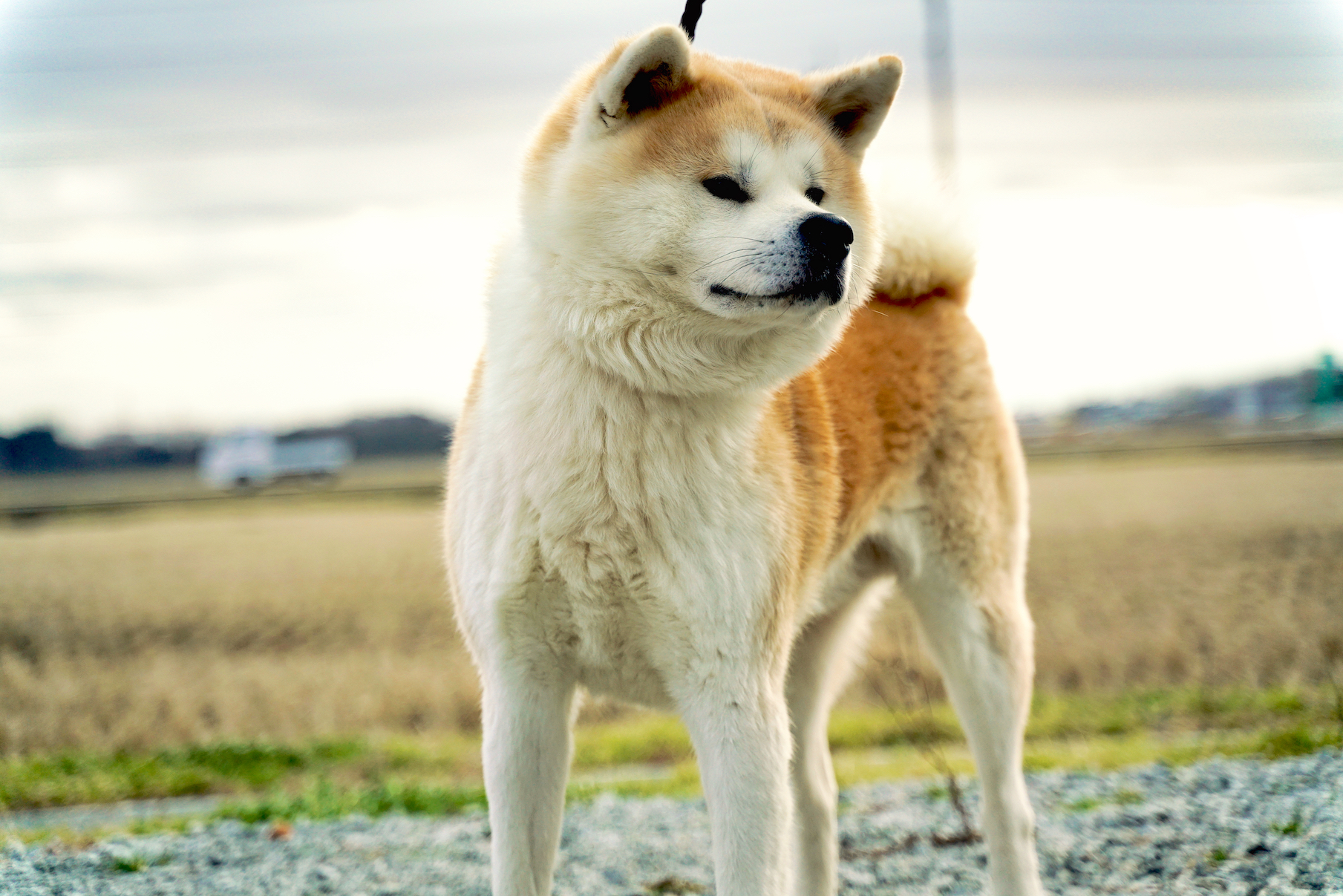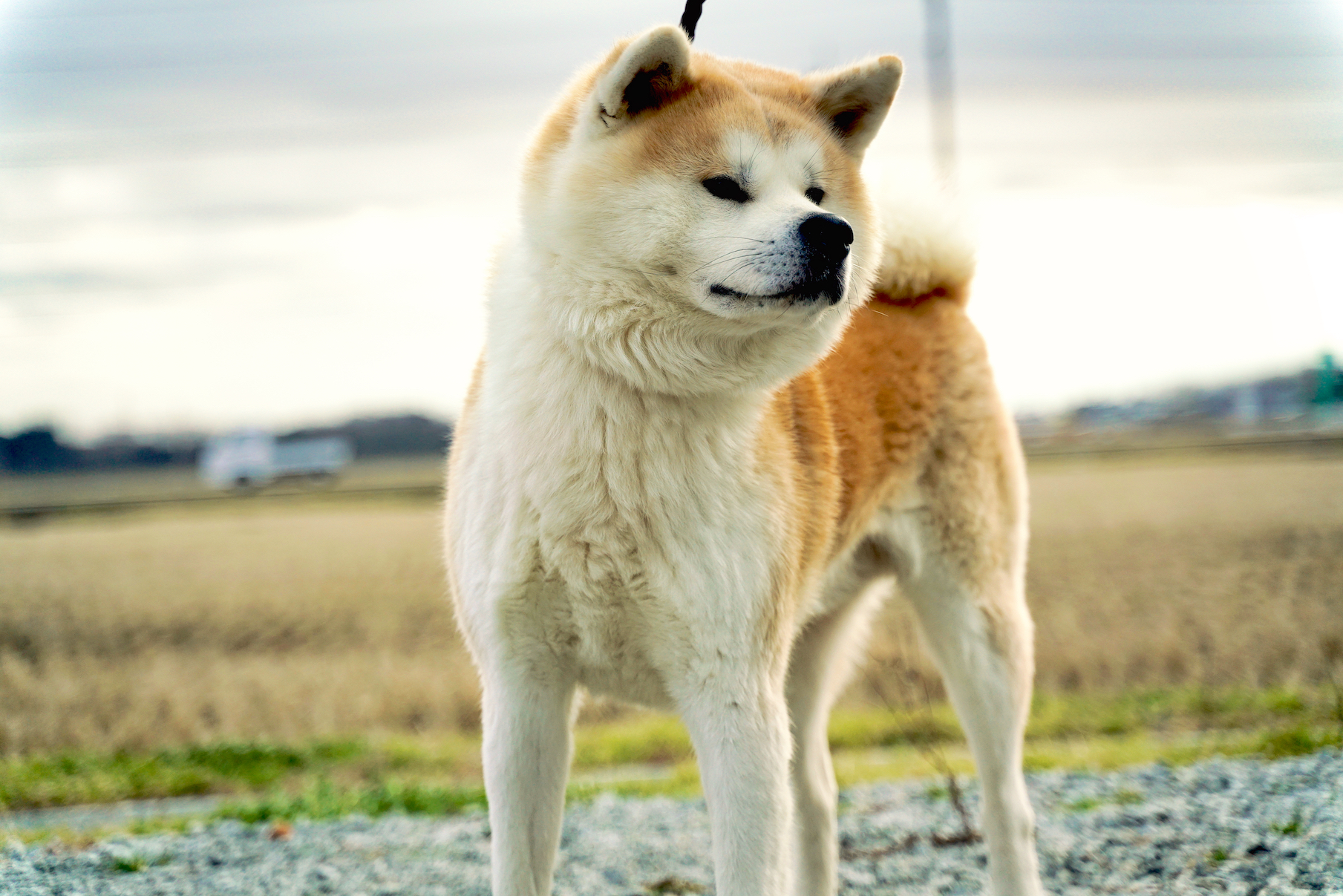 Akita Dog Playdate
Address : 60-2 Minamiushiroda, Kawatogawa, Noshiro city  Inquiry : +81 186-43-7072
https://stayakita.com/things-to-do/things-to-do-266